Check out these gorgeous benches we've just completed for the Ogunquit Museum of American Art! They are solid cherry, with black leather and were designed in two sizes: a two-seater and a single-seat.
The museum will be selling naming rights to these benches and they will be placed throughout the museum for use by patrons as they view the collections.
Bill and Saer worked together on the design; simple and elegant, but artful too.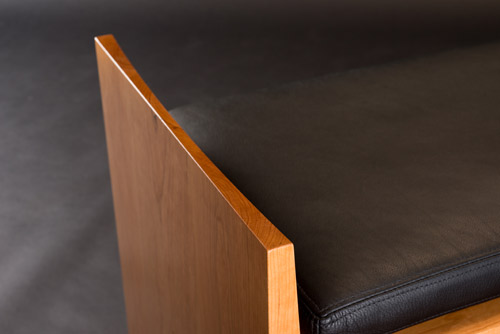 Bill attended the museum opening recently, at which the benches were unveiled to the museum membership and supporters. Several benches were named right away and we're now building several more.
We are excited and proud to have this relationship with the OMAA and to be able to support their efforts in this way.  It is such a great museum with such an impressive collection, with wonderful rotating exhibits.
If you'd like to purchase naming rights to one of these gorgeous seats, contact the Executive Director, Ronald Crusan: 207-646-4909.