A huge congratulations to our friend, Erin Gates! Her new book, Elements of Style: Designing a Home and a Life, has been released and Erin is currently gallivanting about the eastern seaboard meeting her fans and signing books, all in excellent style.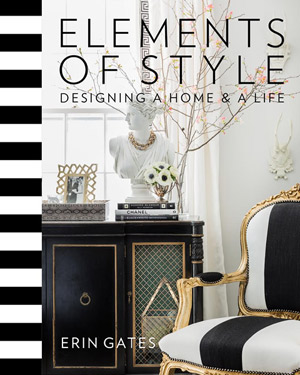 Both of the above images are borrowed from Erin's Blog, ElementsofStyleBlog.com
You can follow Erin's book tour here on her blog: ElementsofStyleBlog.
(Erin's site has recently been beautified, and we urge you to click on "Shop" at the top of the page. We think you'll like what you see. We certainly did.)
Most of you will remember that we met Erin a couple of years ago when she was visiting Kennebunkport, staying at the Inn at English Meadows. During the fall of 2012, she and Bill worked collaboratively on a dining table design for Erin's newly renovated home in Massachusetts. The result of that collaboration is our very popular Gates Table. The Gates Table is a stand-out among our signature designs with its notable curved base and the heft of the standard white oak. It also has a unique finish, created just for this design.
In the spring of 2014, Bill and Erin collaborated again on a new desk design, which she gave to her father. Thus was born our Gates Desk. With harkenings to the 'campaign furniture' of the 18th and 19th centuries, the base of the Gates Desk is a modified version of the base of the Gates Table, carrying aloft three pencil drawers. It is timeless, yet trendy at the same time. Is that possible? Obviously so.

Erin styled and photographed her father's new desk for us.
And following that, the Gates Trestle Table seemed a natural offspring, designed in April of 2014, and quickly becoming one of our favorites here at Huston & Company. Shown below in the signature white oak and Gates finish, it is also really gorgeous in cherry. We have one here in the showroom and I get to look at it every single day.
Since we built the first Gates Table (Erin's) in the spring of 2013, we have built 19 Gates tables and desks (actually, Ethan has built them all), and are in the process of building four more right now. They have been built in just about every custom version you can think of: extension tables, ovals, rectangles, console tables – you name it. Erin's periodic blog posts about her table, her desk and our work have led almost all of our Gates Table clients to us.
And so, as Erin travels throughout the states, changing from one gorgeous, stylish ensemble to the next, meeting, greeting and signing, we thank her profusely for engaging us in these collaborations, and we send her the warmest congratulations on the completion, release and success of her first book.
You can order Erin's book here: AMAZON
Or buy it at Barnes and Noble and other bookstores.
(We pre-ordered ours in April and are eagerly awaiting arrival next week!)