Just before Christmas, we all gathered at Flatbread in Portland to celebrate the season and a very exciting and successful 2013. I'm sorry we didn't get pictures of everyone, but as you can see, fun was had by all.
And good food. Lots of good food.
Josh's wife and baby giggle with Saer's wife. Lindsay's daughter and Ethan's little man pal around. Josh's son and Mia share a story and pizza.
Josh and his family dig into some seriously delicious dessert.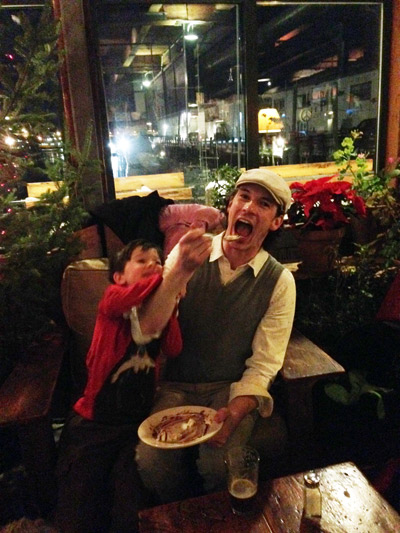 Ethan, you should share.
Bill opens one of his gifts, "What in the world is this?"
Well of course, it's an elephant that walks down a hill. Everyone needs one.
Kate and her kids feeling very happy after pizza and dessert.
The gang had a great time with lots of laughs. We marvelled at how the average age of our group seemed to be about 12. So many little ones now! What fun at Christmastime.
And here's to another splendid year to come! 2014!