Like all businesses that sell things, at the end of the year we take inventory. It only takes us about an hour usually, and we don't have to hire an outside team to do it, but still, we like to have as little to count as possible.
This year, our loft is very full. We don't have a lot of odds and ends as we often do. Instead, this year, we have a lot of brand new inventory. We made a point of overbuilding a number of items this year, so we'd have inventory to sell. We have sold a lot of it, but there is still a plethora of goodies upstairs.
Our lead time for new orders is already out to early February, so this is a great opportunity to get a gift for the holidays as these items are ready to be delivered immediately.
I've taken quick pics of just about everything that's available in our loft (didn't even dust them off for you).  Have a look-see. Each image (except the Camden Stools) is linked to a page on our website where you can see dimensions, etc. It there is something that interests you, give us a call or shoot us an email for details.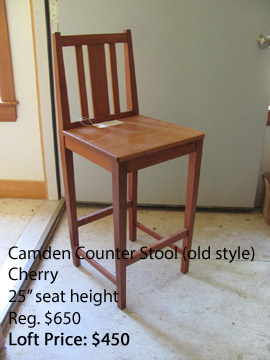 And don't forget, the furniture pieces that are on display in our showroom are always for sale at 10% off, and available for immediate delivery. We have some very beautiful pieces in our showroom right now including our New Haven Bed, Duo Bed, Huston Table Desk, Wright Desk, Arris Sofa and Ottoman, and more!
And for those of you in southern New England, we'll be showing at the Fine Furnishings Show in Pawtucket this year. See the dates and ticket info on our website homepage. Contact us for discounted tickets! We hope to see you there.