Jill Strauss and Val Glynn have been customers at Huston & Company for years. They first purchased a custom writing table from us in 2004. They have added pieces here and there ever since. Their home is a treasure trove of custom furniture. In fact, you'd be hard-pressed to find a piece of furniture in Jill and Val's home that wasn't handcrafted by one of Maine's finest furniture-makers.
In 2012, Jill began to talk to Bill about her new cooking school: Jillyanna's Woodfired Cooking School. She and Val had decided to open the school from their home; Jill would teach classes from their kitchen and patio, and with the new woodfired oven they'd had built. She'd teach small groups to create delectable pizzas and other dishes using the finest ingredients, many of which she'd grow herself.
But first, there were things to be done, changes to be made to the house. Jill and Val needed to convert their home to a school, and yet, not really. More to the point, they needed to make the school work within their home. Tricky.
Jill came to Bill Huston with some ideas. Bill visited the house; they explored more ideas. Bill agreed he'd act as a general contractor of sorts, helping Jill to complete the changes needed to open the school. They worked on designs for a new kitchen cabinet that would store Jill's large mixer and would also be a worksurface for classes. It had to look more like furniture than equipment, it had to work well with the existing aesthetics of Jill and Val's home, it had to hold refrigerator drawers, and it had to be a practical and efficient use of space.
Bill helped Jill create plans for additional storage all over the kitchen and in other parts of the home: "stealing space" as Jill puts it, "adjusting things that existed" in her home so they would work for her cooking school while maintaining the home that she and Val share and love. They worked out a plan to "rebuild" the interior of an oddly shaped closet to act as a food pantry. They raised the level of her kitchen island to add a few more drawers. (Check out the awesome drawer in the island, specifically made to hold flour – we didn't do that, but it's super cool). They enclosed open shelving on the end of the kitchen island to create another closed cabinet space.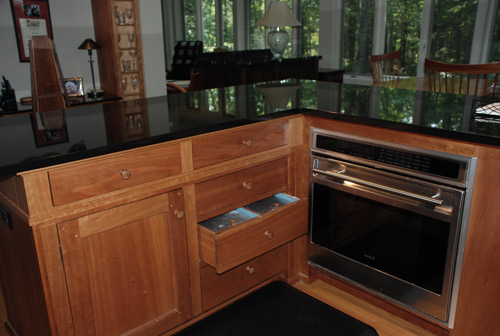 Along the way, Bill introduced Jill to a local contractor and friend who helped with many of the changes in Jill and Val's home. He connected Jill with the folks at Blue Rock Stone Center to help with her new countertops and other stone features. Bill also encouraged Jill to join the local Chamber of Commerce; to begin networking and establishing relationships with owners of local inns and hotels who might send business her way. When visiting Maine, wouldn't Jillyanna's Woodfired Cooking School make for a unique night out?
While I was visiting Jill and Val in their home to grab some photos, Jill was preparing a roasted red pepper for the weekend classes. Never in my life have I seen someone treat a pepper with such love. Having roasted it in the woodfired oven, then chilled overnight, Jill was gently pulling the charred skin from the pepper. It was massaged, gently cleaned with a soft cloth, massaged again and neatly sliced. When the pepper was finally ready, it was added to a plethora of little bowls of other ingredients, all treated with equal care. All waiting for eager students to create their woodfired masterpieces.
Jillyanna's Woodfired Cooking School had a busy summer with classes most weekend nights throughout the season and into fall. You can visit Jillyanna's online to learn more about Jill and Val, the school, class schedules and rates.
This month, you may tour Jill's indoor and outdoor kitchens too. Jillyanna's Woodfired Cooking School will be a part of the annual Coastal Kitchen Tour hosted by the Senior Center at Lower Village in Kennebunk. The Coastal Kitchen Tour will be held on Saturday, October 12th.