We're very excited to introduce a new member of our Rivers family: the Rivers Bed. Designed by Bill and Saer Huston, the Rivers Bed is a natural extension of our Rivers grouping.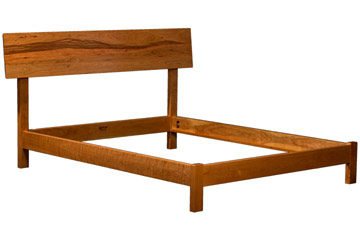 Created in the same singular manner as each of our Rivers tables, each Rivers Bed will be unique. The river which flows across the headboard is created by following the grain of the wood, carving down to increased depths. The stopping point is determined solely by the craftsman's own intuition. 
Saer Huston works on the headboard of the new Rivers Bed 
The headboard is set at a slight angle, considering your comfort while sitting in bed. The frame of the Rivers Bed is simple, allowing the headboard to draw all the attention. It is built of solid wood (shown in cherry) and will last for generations. 
The Rivers Bed is available in Queen and King sizes. We offer a complete bed which includes the headboard and solid wood frame with a slat support for mattress and boxspring. Or, purchase just a headboard and attach it to a standard metal bed frame.
A new page on our website offers dimensions and pricing for the Rivers Bed.
The timing of the introduction of our new bed is quite appropriate. After one of our rainiest months in Maine history, all of the rivers are flowing full.