You've all seen it, haven't you? the fabulous post on the Elements of Style blog about the custom table we built for Erin Gates? If not, you don't have to admit to it – just look here.
You can read the story of the matchmaking between Huston & Company and Erin's dining room in Erin's blog. You can read about the process of designing and ordering a table with us too. She covered all that, in fine fashion.
I'm here to tell you about the fun we've had on Wednesday, Thursday and Friday, since the post went live.
On Wednesday, our website visits were up 140% from our monthly average.
Our usual rates of page visits and visit duration, which are generally quite high, only dropped a little, about 8%.
A lot of people came to see who we are and what we do, and most of them stayed for a while and really explored. 
We had a big jump in catalog requests and email contacts on Wednesday and Thursday, and still more on Friday. These included interior designers in New England who would like to discuss current projects with us and homeowners asking questions about the specific table we designed for Erin: price, wood type, finish and shipping options.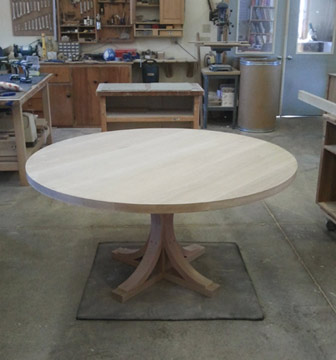 This is all wonderful. We are grateful to Erin Gates for doing such a great job describing the process of ordering a custom table from Huston & Company. We will truly enjoy building custom furniture for these readers of the EOS blog and their clients and developing relationships with each of them.
But my favorite part, personally, has been the connection we've had with her readers. Both in blog comments and through direct emails, readers have asked questions about our work, our finish, our history and our workshop. They've asked about the care of our furniture, they've questioned the durability of the finish we use, they've wondered about the "environmental friendliness" of our finish and our building processes. This has been the most fun, for me. It's like being in a room full of interested people who are raising their hands to ask questions about what you do and being able to answer them, one by one, directly and personally. How often do we get the chance to do that? Not often, I can tell you.
And second to building beautiful furniture, it's what we live for.
So, please, keep the questions coming. Keep sending those emails, chat with us on our Facebook page, talk to us. We love it.