Throughout the past few years, we've had the great pleasure to build furniture for the University of New England. It started in 2008, with a collection of pieces for the George and Barbara Bush Center, on the University's campus in Biddeford. We worked closely with Bree Wright Clark of Wright Interiors on this project. When completed we'd built 40 pieces of furniture for this lovely space.
Later in 2008, we designed and built four tables and a podium for the university's Maine Women's Writers Collection on the Portland campus. Last year, we worked with Wright Interiors again on an order of furniture for the Osteopathic Heritage Center on the Biddeford campus; an order consisting of a display table, side table, two benches and some cherry lettering to be used as signage. We later added a podium to hold a touch screen. Those projects combined tally to eleven pieces.
In late 2011, we created library furniture for the Ketchum Library, again in Biddeford. When completed, the library had a new circulation desk, storage cabinets and work spaces, a printer table and computer stations for 24 people.
This summer, we've been working our tails off on forty single-person study carrels which were delivered this past week. Twenty were delivered to the Ketchum Library in Biddeford and twenty went to the library on the Portland campus. If my tallies are correct, between the two libraries, we've built 51 pieces of furniture.
Are you adding this up? Just for fun, I am. All told, assuming I can count all the work properly, we've built 100 pieces of furniture for UNE. What a great number. 
It's such a pleasure to design and build furniture for a local university. We especially like to visit the Biddeford campus as it sits right on the water.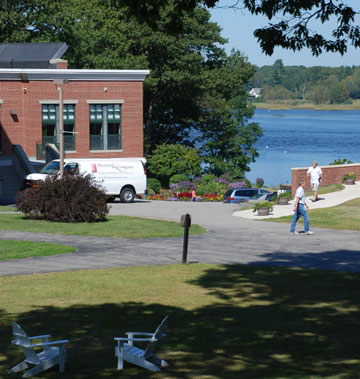 We can see the growth of the university as new buildings arise and old ones are updated on both campuses. We know our furniture will be there, serving the students and faculty of the university for many, many years.