It's not often (enough) that we have the opportunity to entertain and do a little show-and-tell here at our shop and showroom in Kennebunkport. But this week we had that opportunity in spades. 
We were asked recently to give price estimates and design ideas for library tables and carrels for a large project at Princeton University. Though this project will take years to complete, the furniture designs and manufacturers will be decided soon. When our pricing and designs were deemed to be true contenders, we were asked to build a sample table and part of a carrel for review. Generally such samples are shipped to the client for review at their location. In this case, we were pleased to learn that the review committee wanted to come to Kennebunkport to see our workshop as well as the samples.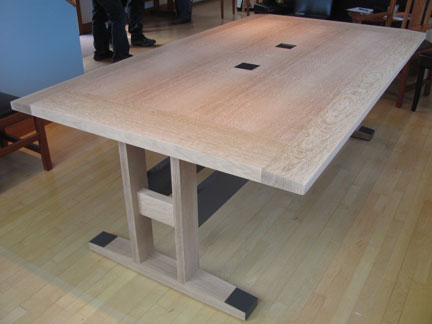 The committee consisted of a University Architect from Princeton, the Director of Library Administration from Princeton, four members of the outside architectural teams and the Project Manager from the building contractor on the project. 
Tuesday was a beautiful day in Maine; we were able to keep our doors open all day and discussions and tours were full of positive energy. We began with a tour of our workshop.
After lunch* we moved to the showroom for discussions around the table and carrel samples.
All details were discussed and many design decisions were made. It was a very positive meeting and we enjoyed our guests very much.  We hope you'll be hearing much more about this exciting project in posts to come.
*See our Facebook page to learn about the local businesses that helped us to make this such a successful visit!